Bringing Your Past To The Present



McCormick Family History Services ™


Putting your collections in meaningful order and insuring their long term survival are key to a successful archival project. Here is an inventory to a family history collection created by Michael for a microfilm edition.
Research is only half the story. We can also provide professional collection management services. The following documents display our skills in this area. Click on the images to see examples of our work.
We are also familiar with the management of large institutional collections. Here Michael has processed and described the records of an important Cleveland Lutheran church.
"Gail has investigated every line of my family for about a year and a half now. She is very knowledgeable when it comes to researching information and also very good at explaining it. She is accurate and will only include things on her charts she is 100% sure of. She is very nice and warm and is always a joy to speak with. She has very competitive rates for her level of education and experience. She has helped me uncover things I would not have been able to do myself! Highly Recommended!"

Scott Hughes, MD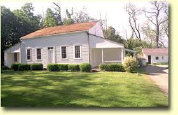 Shandy Hall, in Ashtabula Co., OH, was the home of the Harper family, early settlers of the Western Reserve. Gail located papers hidden in the home, processed and preserved them, and opened a door to early Ohio history.